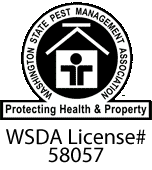 MichaelGlendenning.com @ 2018
All Rights Reserved WORLDWIDE
Gig Harbor, WA - USA
Website by:Gig Harbor Design
Welcome
Welcome to our web site. We hope that the information you find will be helpful to you.

About Us
Since 1998, we have been successfully customizing integrated pest management programs for our residential and commercial clients throughout the Puget Sound area. Through continued education and keeping abreast of the latest industry techniques, equipment and products, we are able to offer our clients customized pest management services with minimal impact on the environment.
Whether your home or business has been invaded by wood destroying insects that do millions of dollars damage to our structures in the United State each year or invaded by stinging, food contaminating, or disease carrying pests such as small ants, flies, fleas, cockroaches, bees, birds or rodents we will customize an integrated management program to eradicate the problem in a manner that is both humane and environmentally friendly.

Can I Treat the Pest Problem on My Own?
While "do it yourself" pest control is certainly an option, most lack the knowledge to effectively treat pest problems and the typical untrained eye can not recognize the casual signs pests leave in and around a structure. These critical signs can be important to a professional in determining proper treatment. Many of these pests are carriers of blood borne pathogens that are dangerous to humans. Licensed professional are certified to perform thorough inspections and handle the specific pest problems that you may encounter in and around your home or business and are trained in the safe handling and proper applications of the latest products and materials used in controlling pests.

Determining Services
After a no charge thorough inspection of the property we will be able determine a course of action to help eradicate the problem and make recommendations for the treatment. Depending on the type of pest and the extent of the infestation we can normally offer annual, monthly and single service contract options. We are committed to devise a plan that will not interrupt daily business operations or home schedules.


Michael Glendenning
CONTACT ME FOR AN APPOINTMENT TODAY
Office: 253.549.4039 - Cell: 253.549.6090 - Fax: 253.549.2290
Email: mlg55@comcast.net